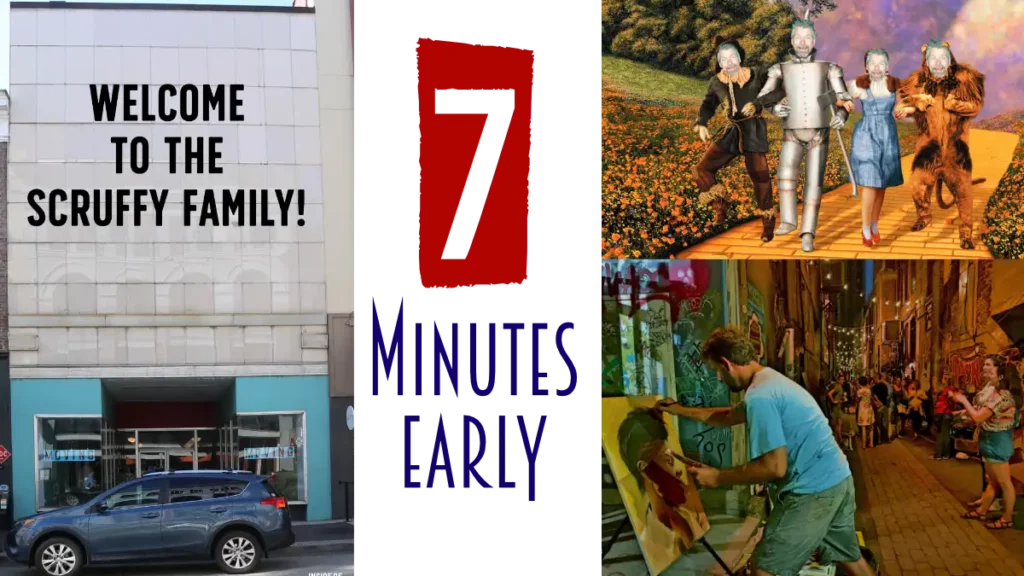 WESTS PURCHASE GAY STREET BUILDING ANNOUNCE PLANS FOR
"SEVEN MINUTES EARLY"
Originally Posted in: KNOXVILLE URBAN GUY ~ OCTOBER 20, 2022
Scott and Bernadette West have purchased the building at 413 South Gay Street, marking the couple's first Gay Street property after owning property in the Old City and numerous properties on Market Square. The couple also recently purchased property on Blackstock with plans to develop an arts district there, just off the World's Fair Park. The new purchase includes a basement and two floors which have been owned by Julie Belcher for over two decades and most recently was home to Pioneer House owned and operated by her and (Cowboy) Phil Rupp.
I spoke with Scott West to learn more about the purchase and the plans for the space. He pointed out that their approach to building ownership is different from a number of other investors downtown in that they use the buildings they purchase in order to open businesses that support downtown, rather than flipping them or renting them to others. The plans for this building is no different.
Scott said to imagine a reverse image of Preservation Pub and that's what you'll find at the new location. He said it will be warm woods and exposed brick, along with "music 365 days a year." He hopes this gives a boost to even more local bands by giving them an additional space to play. He plans for it to include sheltered seating in the recessed area on the two levels on Gay Street, including seating in what is now display windows, albeit, with the glass removed.
As for the façade, he's asked Jack Neely to research it's earliest iteration, suspecting the current face of the building isn't original. He said they will either restore it to its original look or, at the least, make the appearance of the building much more attractive. The new business will be a smoke-free alternative to Preservation Pub's smoking environment.
A second phase will include a rooftop deck, which he hopes will be two levels, including a set-back mezzanine, much like Bernadette's. The two decks would be connected by bridge enclosed in plexiglass allowing those crossing to look down on the alley and those in the alley to see their friends in the bridge. He expects it to add to the tourist draw of the alley and said that he and Bernadette had imagined the alley as a draw when they first started purchasing buildings on the square.
And, of course, with Scott making plans, he doesn't envision just a bridge over the alley. He's imagining a yellow brick road down the alley that leads to a Wizard of Oz mural, topped with the "Emerald City and a double rainbow." He's imagining people looking down the alley at the artwork, twinkly lights above, and an LED lighted rainbow bridge above with people waving back.