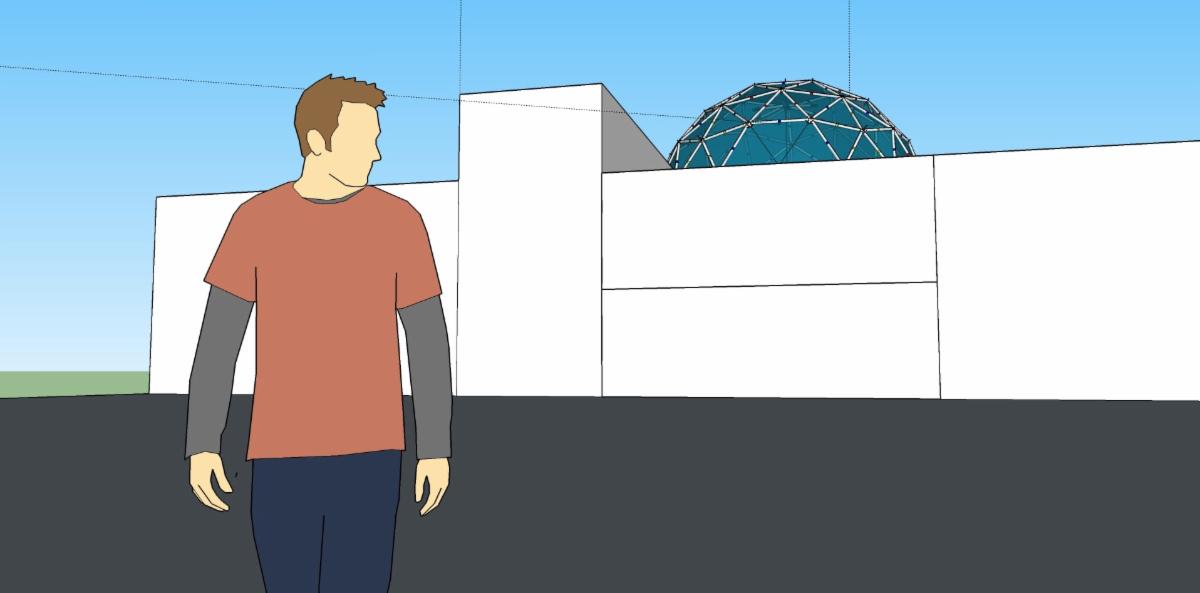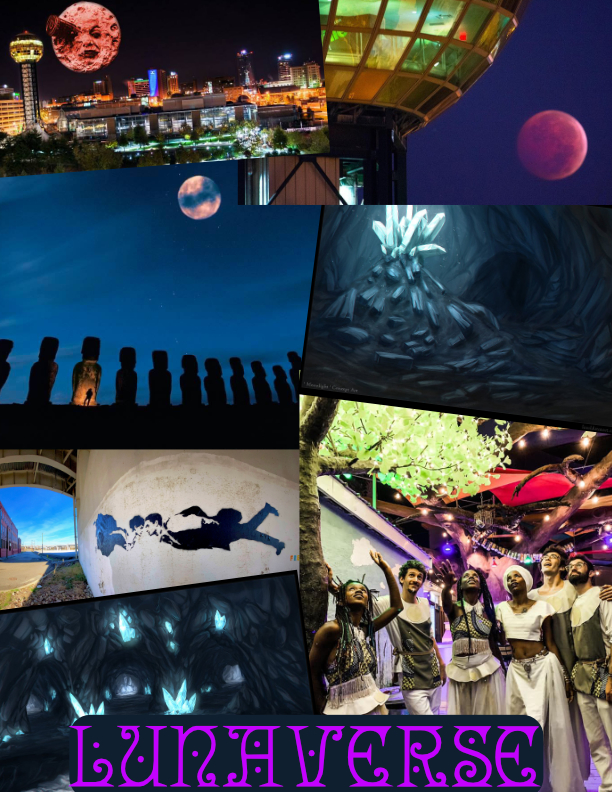 "Notorious Knoxville visionary wants "The Moonsphere" to tower over his new "LunaVerse Knoxville" downtown district…"
"Most people would say you're crazy to go into an area under a viaduct by the railroad tracks," West told Knox News. "You're talking about pioneering a new district. … This is not a small thing…"
West believes LunaVerse Knoxville could draw thousands of visitors every week to the 940 Blackstock property (formerly the home of The International Nightclub and more) and could better connect the University of Tennessee at Knoxville and the Fort Sanders neighborhood with downtown…
So, what exactly is a Moonsphere?
West envisions it as a "sister" to Knoxville's iconic Sunsphere, a half-moon planetarium floating over warehouse buildings and rooftop gardens, with art installations and event spaces beneath its dome.
Each twilight, projections of natural landscapes, intergalactic wonders and other stunning visuals would be projected on the dome for people to view inside or outside.
"If we can complete the Moonsphere on the 50th anniversary of the Sunsphere, I think that would be pretty cool…"
Interior work on the property's three buildings would not be completed until at least 2023… but pop-up events could happen on the property as soon as this spring.
That includes a "Moonrise in the City" concert series, a play on the Sundown in the City concerts held on Market Square years ago."
— Ryan Wilusz/ Knoxville News Sentinel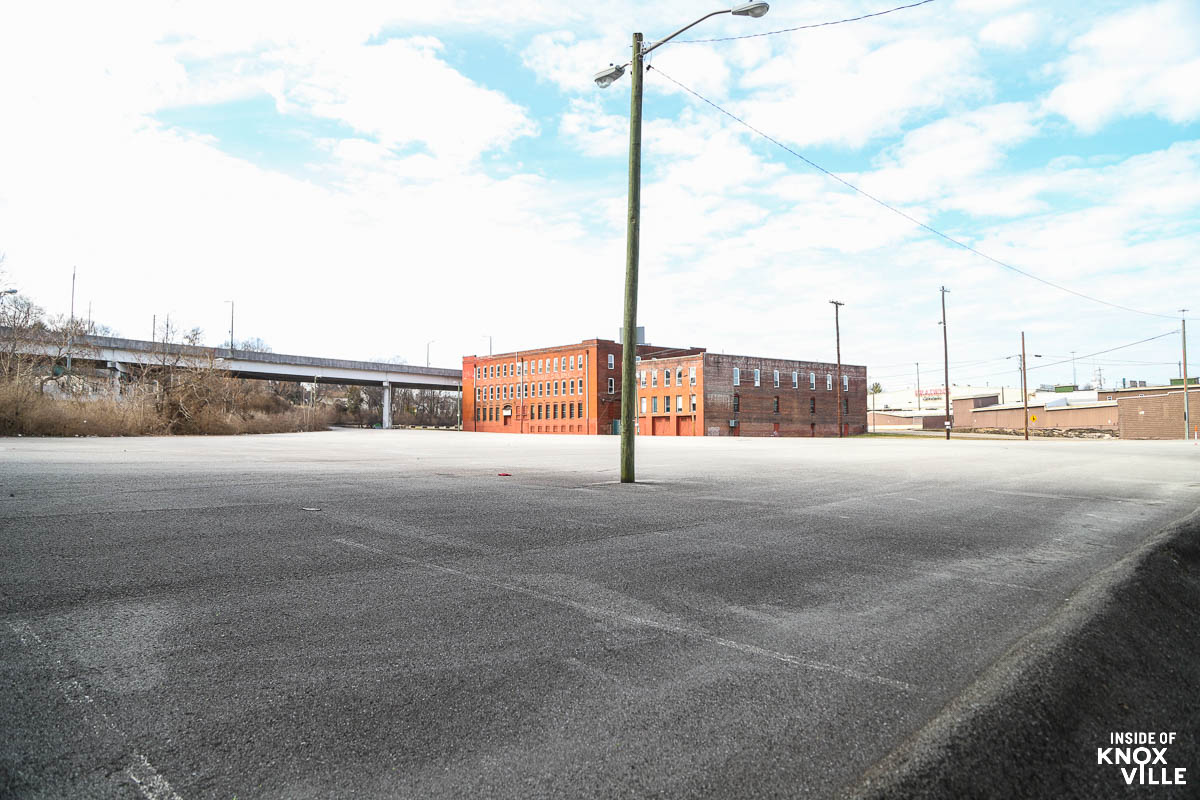 ---
25 years since the first Sundown in the City…
40 years since the World's Fair and Sunsphere…
From Sundown to Moonrise…
from the Sunsphere to The Moonsphere…
it all makes perfect sense!
Moonrise in the City, once fully realized, will be from 6PM-10PM on Thursdays AFTER office workers have gone home for the day, so parking garages all over downtown can be used for FREE with an easy five-minute walk through the World's Fair park over to 940 Blackstock Ave (the former International/ Electric Ballroom) for the FREE shows.
Imagine a stage about in this spot looking back towards 940 Blackstock Ave.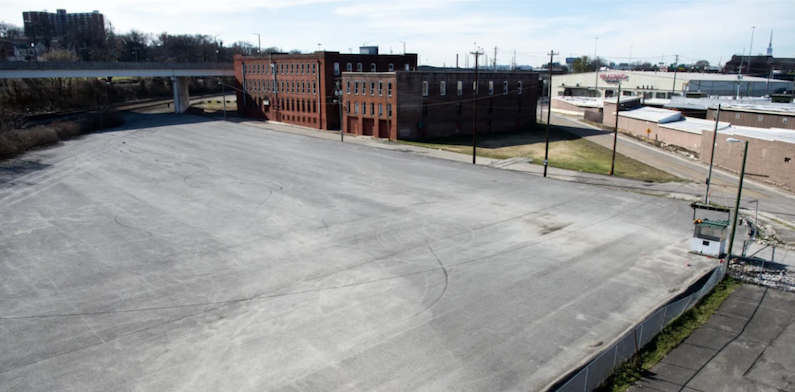 (we'll change the address back to its original historic street name, "Asylum Avenue," soon enough).
Imagine LunaVerse Knoxville, with The Moonsphere rising over the historic buildings pictured, light shows in a grand geodesic dome rising in sight of the Sunsphere over the Scruffy City skyline.
Imagine thousands of happy people joining hands across this transformed urban landscape, smiling folks enjoying FREE shows at our "Moonrise in the City" concert series where we showcase great bands (maybe Moon Taxi will help us christen the vision… c'mon guys, it only makes sense…).
Imagine friends enjoying cool beverages from retro trailers and old-time train cars and sharing delicious food from creative food trucks beneath colorful pennants blowing over the art-filled landscape. Imagine brilliant shade sails overhead like a medieval faire… but in the future… under the moonscape…
Imagine rooftop gardens and patio balconies from the upper floors. Imagine exploring the works of hundreds of local artists around the 3.5 acres of the LunaVerse…
And that's just what we're gonna do with the parking lot…
(Pic of Moon Taxi is from when we booked em on Historic Market Square, Knoxville. Let's pioneer another arts and entertainment district folks.)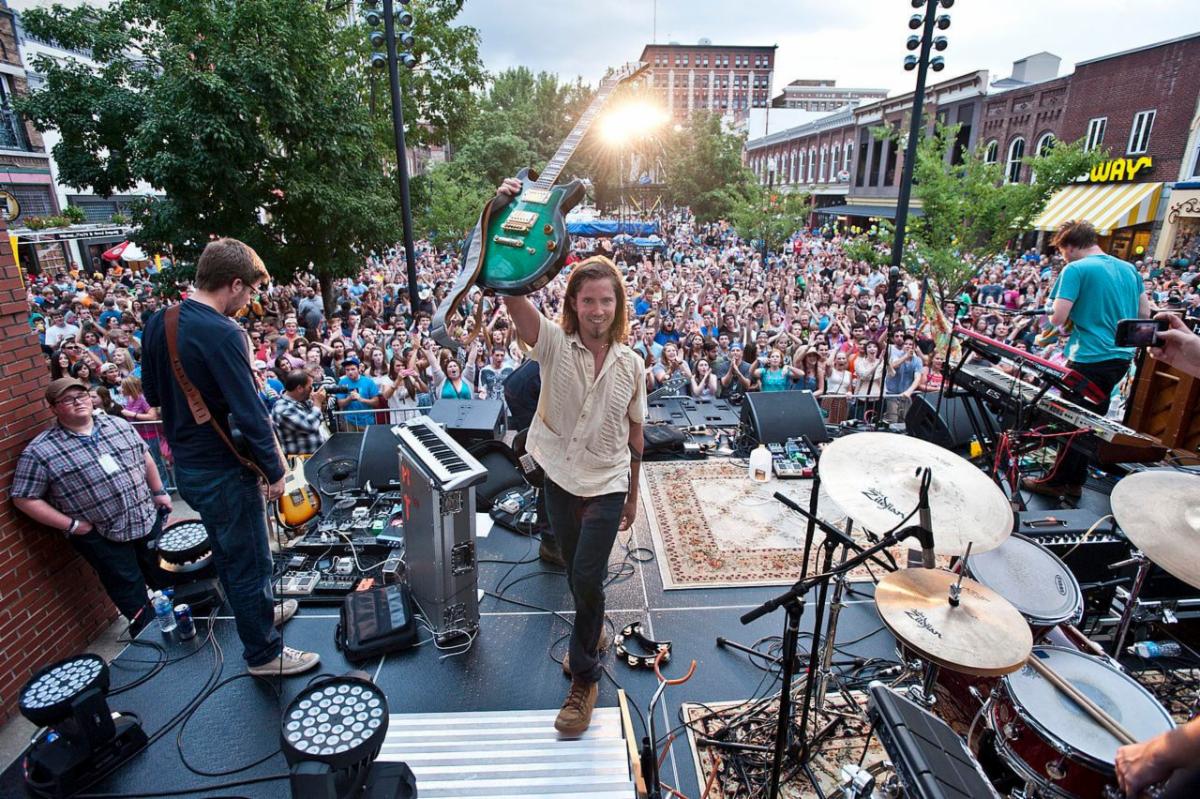 Amazing Moon Taxi pic by the inimitable Bill Foster