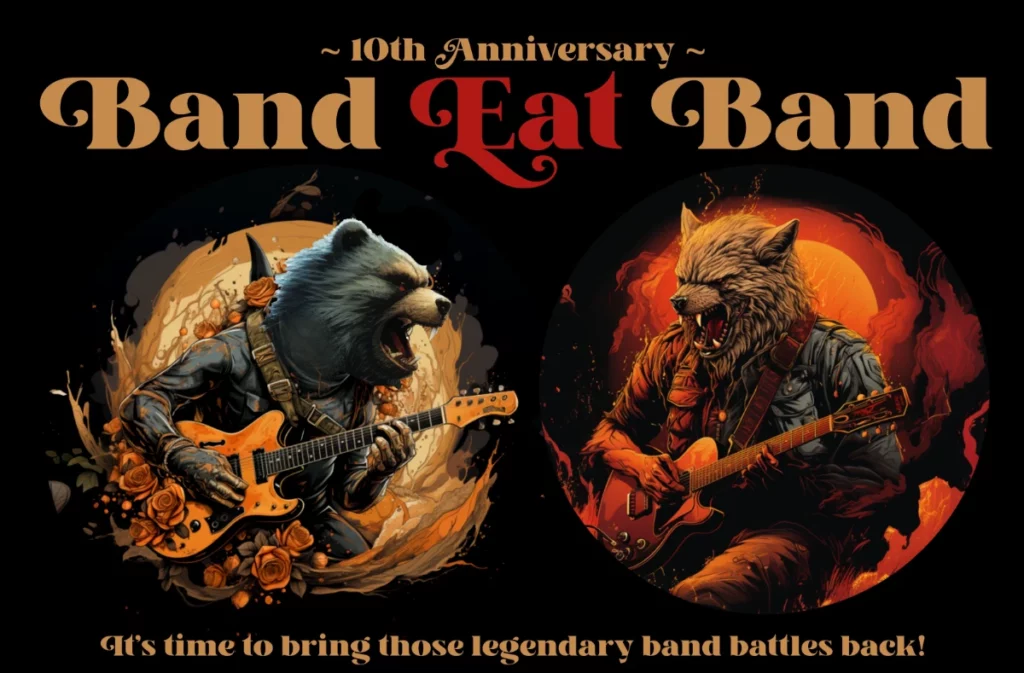 Band Eat Band
It's Time! Sign Up Your Local Band for our $25,000 10th Anniversary "Band Eat Band" Competition
Three bands will compete each Thursday. We will randomly determine the order of their set times the day of:
9-9:50: Band 1
10:10-11: Band 2
11:20-12:10: Band 3
Show your support again by voting for your favorite band at the live shows!
YOU and your friends can push your favorite band through, just like the official judges!
On Thursday nights in Scruffy City Hall, you will receive voting tickets in various places, which you then trade with our Events Coordinator Mackenzie at the merch area in the Main Hall for colorful ping pong balls to drop into your choice of three clear containers so everyone can see your favorite band.
Official Judges will select the band they believe had the best performance of the night. That band will move on to the semi-finals. If the audience disagrees, their favorite band will move forward as well (as demonstrated by the the visual representation of the votes shown as colorful ping pong balls that have been placed in the main hall for all to see).
If judges and audience disagree, TWO bands may move on instead of one!
Our MC/ Sound & Lighting Engineer and Czar of Awesomeness Eric Nowinski will announce the winner or winners of the night at 12:15AM
Band Eat Band proceeds will also help support Knoxville families via The Empty Stocking Fund and other good causes.
THANKS VERY VERY MUCH TO OUR SPONSORS:
THE KNOXVILLE NEWS SENTINEL, 90.3 WUTK UT'S COLLEGE OF ROCK,
THE BEAST UNLEASHED, NÜTRL VODKA SELTZER, GEORGE DICKEL TENNESSEE WHISKEY, 
AND PEAK IV HYDRATION (VITAMIN PATCHES THAT WORK)
Band Eat Band Sign Up Form